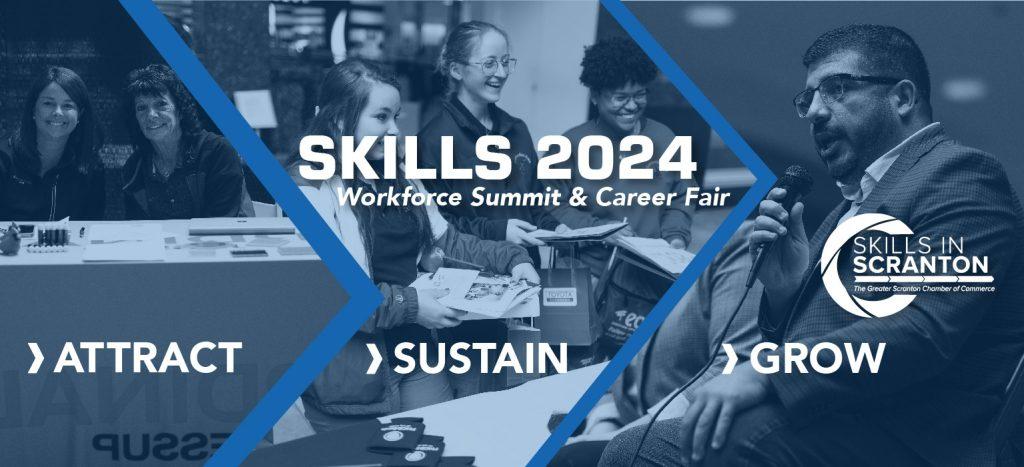 Get ready for SKILLS Workforce Summit and Career Fair — a transformative event aimed to bridge the gap between job seekers, students, and industry professionals, providing a unique platform for meaningful connections. Through inspiring speaker presentations and interactive employer booths, attendees will have the opportunity to explore diverse career paths, gain insights from seasoned experts, and forge vital networks that can propel their professional journey to night heights. Don't miss this chance to unlock your potential and explore a multitude of career avenues under one roof!
Why can attend? This event is for:
– High School Students
– College Students
– Job Seekers
– HR Professionals
When and Where?
Thursday, April 4, 2024
9:00 AM – 5:00 PM
Radisson Lackawanna Station Hotel
700 Lackawanna Ave., Scranton, PA 18503
Presentation Schedule
8:30 AM
Networking & Student Arrival
9:00 AM
During the Interview: Do's & Dont's
This interactive session is aimed to equip aspiring professionals with essential guidelines and tips to excel in their interviews. Whether participants are seasoned professionals seeking to refine their interview skills, or students entering the job market for the first time, this interactive presentation promises to be an invaluable and enjoyable experience that will significantly enhance their interview prowess and increase their chances of landing their desired job opportunities.
10:00 AM
Beyond the Resume-Best Practices for Getting Hired
By the end of this session, attendees will have a comprehensive understanding of how to go above and beyond a traditional resume to impress potential employers and increase their chances of getting hired. Armed with these best practices, participants will be better equipped to navigate the job market with confidence, leaving a lasting and positive impression on hiring managers and setting themselves apart as top candidates for their dream positions.
Pursuit of Happiness and Your Career Pathway
Panelists will emphasize the importance of self-awareness and introspection in identifying one's unique strengths and talents. Attendees will learn practical techniques and exercises to help them uncover their core skills and passions, which are vital for aligning their career choices with personal fulfillment.
11:00 AM
Jobs in Demand: Working in the Skilled Trades
Attendees will be introduced to the diverse array of skilled trade occupations that are currently in high demand across various industries. The speakers will highlight the critical role that skilled tradespeople play in our economy, building and maintaining essential infrastructure, and contributing to the growth of sectors such as construction, manufacturing, automotive, and more.
Your Career from Start to Finish
This presentation will provide a roadmap for attendees, guiding them from the early stages of career exploration to achieving long-term satisfaction and growth in their chosen profession.
12:30 PM
Preparing Tomorrow's Workforce: The Role of Education-Business Collaboration
Panelists will address the crucial connection between academic learning and real-world business demands. The speaker will give the audience a better understanding of how education and the business world can complement each other, leading to more effective and relevant outcomes for both students and businesses.
Internships Unveiled: A Panel Discussion
This panel discussion on internships will be focused on demystifying the world of internships, how to initiate the process, and the significant value they offer to both students and employers.
1:30 PM
State of the Workforce with Teri Ooms
A highly informative and insightful session that provides a comprehensive analysis of the current landscape of the job market, examining trends, challenges, and opportunities that impact the workforce at large.
2:15 PM
Networking Break
2:30 PM
Federal Bonding: Unlocking Second Chances and Building Stronger Workforces
Speaker panelists will provide a comprehensive overview of what federal bonding entails and how it plays a pivotal role in promoting fair hiring practices for individuals facing barriers to employment. This session will provide the audience with a clear understanding of the purpose and functioning of federal bonding, which is designed to provide employers with insurance coverage when hiring individuals with backgrounds that might otherwise pose concerns.
Creating a Language-Inclusive Workplace: The Impact of ESL Support
A panel of experts and representatives from ESL service organizations will share their experiences and expertise on the range of ESL services available, including language courses, conversation groups, pronunciation workshops, cultural orientation, and personalized language support.
3:30 PM
Maximizing State and Federal Funding: Investing in Staff and New Hire Training
Learn about the various sources of funding available at the state and federal levels that can be allocated to staff and new hire training. The speaker will provide insights into different grant programs, workforce development funds, and other resources that can be accessed to invest in employee growth and skill enhancement.
SkillUp PA
SkillUp pa is Pennsylvania's new online training platform. Learn how to access 6,000+ training modules and explore over 130+ industry-recognized credentials at no cost through the PA CareerLink website.