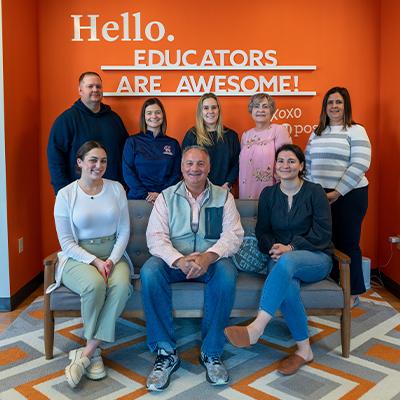 Join the cohort with educators across northeastern Pennsylvania!
About the program
Educator in the Workplace seeks to enhance classroom instruction, student learning, and career readiness for the workplace of today and tomorrow by connecting educators and school board directors with local business and industry leaders.
Bridging the Gap Between Education and Business:
A Hybrid Learning Experience
Educator in the Workplace seeks to align and connect business and industry leaders with local school districts, the career and technical center, and the local intermediate unit. Program participants will connect both in-person and virtually with colleagues from regional school districts during the 2023/2024 School Year. Through the program, participants are provided experiences interacting directly with industry and business leaders to learn about industry trends, needs, and opportunities to enhance their classroom instruction, student learning, career readiness, and peer networking.
Program details:
Orientation Day: October 23, 2023; 3:00 – 4:00 PM (Zoom)*
Trades & Technical Education: October 26, 2023; 11:00 AM – 1:00 PM*
Counselor's Networking: November 14, 2023; 11:00 AM – 1:00 PM
Administrator & Principal Networking: November 21, 2023; 11:00 AM – 1:00 PM
School Board Director Networking: November 29, 2023; 3:00 PM – 5:00 PM
Bridging the Gap Informational Session: December 13, 2023; 9:00 AM – 2:00 PM*
School Board Director Networking: January 24, 2024; 3:00 PM – 5:00 PM
State of the Workforce Presentation: January 16, 2024; 3:00 – 4:00 PM (Zoom)*
Counselor's Networking: February 27, 2024; 11:00 AM – 1:00 PM
Administrator & Principal Networking: February 28, 2024; 11:00 AM – 1:00 PM
Workforce Summit & Career Fair: April 4, 2024; 9:00 AM – 5:00 PM
Business Sector Tours- To Be Announced: January – April 2024
Closing Session: May 2, 2024; 9:00 AM- 2:00 PM*
*Sessions require mandatory attendance. Program participants are required to attend a minimum of two Business Sector Tours of their choice. Enrolled participants will receive Act 48 credit hours.
For Educators
Who can apply?
Teachers from Kindergarten to 12th Grade
Counselors & Curriculum Writers
Administrators
Career and Technical Education Instructors
School Board Directors
What will I be doing?
Participating in and exploring career pathways in local businesses and industries
Interacting directly with leaders of the business community, gaining insight on the skills students need to be successful in their future careers
Establishing connections to business and industry leaders in Lackawanna County's leading and emerging industry sectors
Learning about local businesses and employment opportunities
Why?
Employers are experiencing challenges in recruiting, hiring, and retaining a skilled workforce
A skilled workforce is critical to future business growth and ultimately, our region's well-being
Curricula can build job readiness and strengthen the skills that are most crucial to employers
With a clear picture of where the jobs of today and tomorrow are, educators can help students make informed decisions on their future career pathway and raise awareness of job opportunities in Lackawanna County
By enhancing the collaborative efforts of the business and education communities, educators can enrich their career education instruction and counseling efforts and businesses will gain valuable insight on the local educational landscape
Next steps:
Apply to participate
Complete the 2023 Educator in the Workplace application. Applications can be completed and submitted online by clicking here
Educators play an important role in connecting students of all ages to the world of work. The Chamber's role is to provide opportunities and resources to strengthen an educator's ability to guide students in making informed career and education decisions.
For Businesses
Businesses can gain a better understanding of what is being taught in the classroom and gain valuable insight from experienced teachers. Educators can gain a more robust understanding of the technical skills, behaviors, and mindsets students need to be successful in today's professional environment. The Educators in the Workplace experience seeks to ensure K-12 students are being taught the essential knowledge and skills, as well as guidance to prepare them for the workplace of today and tomorrow.
Why?
Show educators which skills are vital to your business
Market careers that are facing workforce shortages
Promote employment opportunities at your organization
Achieve positive public relations via community outreach
Participate in an experience that will provide wonderful opportunities for learning and collaboration between the education and business communities of Lackawanna County
What will I be doing?
Prior to the program, businesses are asked to identify the opportunities and challenges related to hiring, training, promoting, and retaining workforce. All business hosts will receive guidance and a variety of resources and materials to develop your experience.
To provide a meaningful experience to the educators, businesses are asked to:
Guide educators through your entire business environment, highlighting the skills that are vital to your business
Share knowledge of the structure of the organization as well as the profile of the workplace (employment opportunities, educational background, salary ranges, training needs, ongoing professional development, etc.)
Expose educators to careers that are facing critical workforce shortages
Discuss skills needed and challenges facing the industry
Discuss topics such as the impact of technology, diversity in the workplace, employee benefits and work ethic
Assign them a mentor to serve as their liaison to the business
Businesses are encouraged to involve educators to all major areas of their business operations
Next steps: If you are a business interested in applying to be a business host, please submit this form by clicking here.
If you are an interested in becoming a program participant or business host and would like to learn more about this program, contact Emily Pettinato, workforce development specialist at epettinato@scrantonchamber.com or (570) 342-7711, Ext 138.